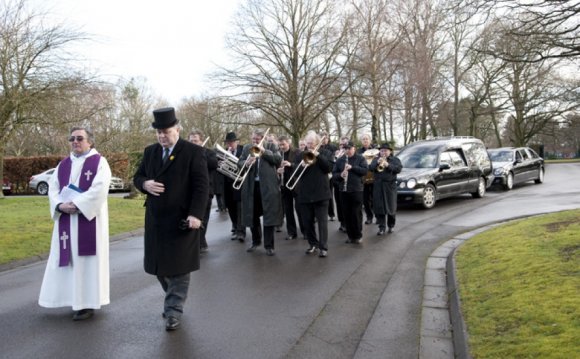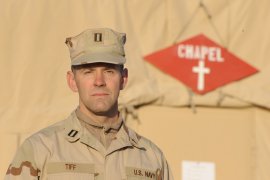 By: Christianne M. Witten, Chief of Navy Chaplains Public Affairs
"If I go up to the heavens, you are there; if I make my bed in the depths, you are there.
If I take the wings of the morning, and dwell in the uttermost parts of the sea,
even there your hand will guide me, your right hand will hold me fast."
-Psalm 139:7-10

On Dec. 20, 2013, Navy chaplain Lt. Rick Tiff performed an interment ceremony near the USS Utah Memorial for Aviation Structural Mechanic 1st Class Benzion "Barney" Packman, Pearl Harbor survivor, and his wife, Florence. Barney's daughter, Marissa, her spouse, and their son, travelled from Los Angeles to honor her father's lifelong dream. Since Marissa was a practicing Buddhist, Chaplain Tiff selected a passage on love from 1 Corinthians 13 to read during the ceremony.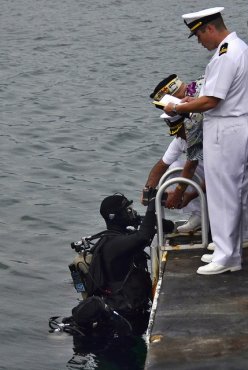 "For now we see only a reflection as in a mirror; then we shall see face to face. Now I know in part; then I shall know fully, even as I am fully known. And now these three remain: faith, hope and love. But the greatest of these is love."
-1 Corinthians 13: 12-13
In Pearl Harbor, these interments have a unique significance as they represent the physical and symbolic reunion of a veteran with their Shipmates from the vessel. These particular interments involve a Navy diver physically placing the remains of the deceased within the remains of the ship. They are reserved solely for Pearl Harbor survivors and their families.
It is truly a sacred privilege for the Navy chaplains at to honor this final request for the few remaining Pearl Harbor survivors. A command representative from either the shipyard or the base is also present during the interment ceremonies to pay tribute to these Navy veterans and their families.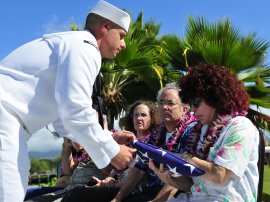 Chaplain Tiff has been stationed at the Joint Base Pearl Harbor Memorial Chapel for the past two and a half years.
In a phone interview, he explained how he typically performs interment ceremonies at the or the . Interments at the USS Arizona and USS Utah are reserved solely for those who served aboard that ship.
When asked if there is particular scripture he likes to use, he replied, "I like to use scripture that is meaningful and healing while also being respectful of the family's faith tradition. John 10:11-16 is one that I commonly use. It refers to the good shepherd, which I feel also accurately portrays the deceased service member who cared for their Shipmates throughout their life. These veterans not only loved the Navy, but also cared for each other so much that their lifelong wish is to be buried with their Shipmates who perished in Pearl Harbor."
When asked what it is like to be a part of this sacred and honored tradition, Tiff said, "One thing that is very powerful when performing these ceremonies is that you are fulfilling a lifelong dream of the deceased, to be buried with their comrades in Pearl Harbor. You are giving a special gift to the family as well. While sad, the family is also very moved by this spiritual moment that can bring a strong sense of relief and closure, knowing they did their very best to honor their loved ones' wishes." He went on to add that, "at the Utah, you can actually see the remains of the ship above the water, so there is a strong reminder of the sacrifice that [came out of the attack on Pearl Harbor.] That something big happened here."
"Something I will remember to the day I die is this vision of the Navy diver entering the water and beginning to descend to place the urn in the remains of the ship. It's very moving to witness this. This is only done for those who served aboard the Arizona or the Utah. The divers take the urn from the family, and they hold it high as possible, out of ultimate respect for the deceased, " Tiff said.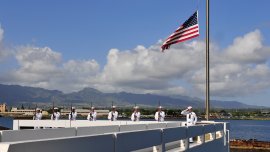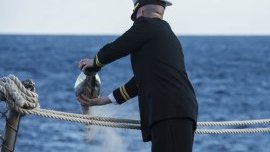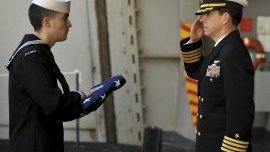 Share this Post